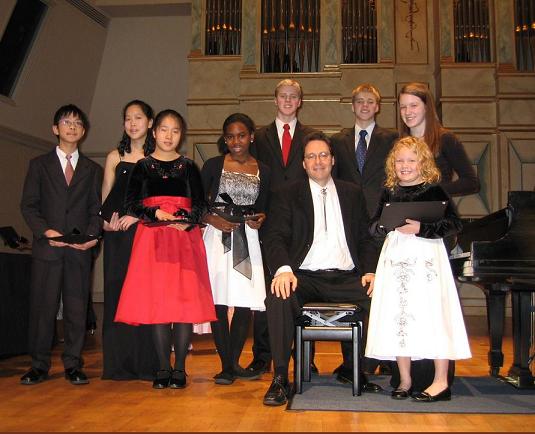 Tony and students, AASPA graduation program, Spivey Hall, 2009
Cathy Gittelson and Tony Winston
(770) 570-0606
Piano Teachers in East Cobb, Marietta, Ga 30068
Teaching Method

With encouragement and support, we guide students towards their musical goals one step at a time. By nurturing an envoirnment that gives positive affirmation to childrens' natural curiosity, a child's imagination is ignited. Our method as piano teachers areto provide the tools to help each student realize their highest potential.
Every student is an individual and each piano lesson is tailored to the student's unique strengths, challenges, and interests. Musical preferences are incorporated into lessons so students will be inspired to practice.

We help students acquire a solid foundation in keyboard technique and musicianship that they can use to explore any type of music.

Lessons include:
• Hand position and fingering
• Music notation
• Rhythm
• Sight reading
• Playing by ear
• Phrasing and interpretation
• Harmony and musical form
• How to practice
Parent's support and encouragement is essential so I try keep parents closely involved. A parent's participation in daily practice is very helpful with young beginners. It helps to establish good practice habits and establishes a better rapport for the parent, teacher and child. A most positive way of beginning the journey of learning music!

Living in the Atlanta area provides a wonderful opportunity to experience musical and cultural events, and we encourage students to attend live performances and perform for family and friends. We provide opportunity for student recitals in a supportive setting. Music festivals and competitions are available for those who wish to participate. The Atlanta Area Suzuki Association has a graduation program that many of my students participate in.

The role of the parent is paramount in helping their child to thrive and reach their full potental. . Children look to their parents to provide encouragement, enthusiasm and interest in their progress, which leads to more productive practice patterns at home. A home environment that promotes music appreciation and discovery sparks curiosity and interest in the child.

STUDIO POLICY

1) Lesson payment is paid a month in advance, and is nonrefundable.

2) At least 24 hours notice must be given if the student cancels or the lesson will be forfeited. If sufficient notice is given a make-up lesson will be scheduled. There is no transfer of any portion of tuition from one month to another. If the teacher cancels a lesson, credit will be given or a make-up lesson will be scheduled. Extra time will not be allotted to late arrivals.

3) Participation in student recitals is strongly encouraged but not required.

4) Younger children must be accompanied by a parent or adult guardian.

Tony Winston has been a private piano instructor for twenty years. He is a certified in the Suzuki Method, as well as in the Yamaha Music Education System which is a group lesson method. Mr. Winston has a private piano studio with fellow teacher Cathy Gittelson, and has a roster of over 50 students. He also teaches jazz, pop and runs a 'garage band' class which gives his students ensemble experience and exposure to drums, bass and electric piano.

Mr. Winston studies classical music with renowned instructor Lois Finely. He was the graduation director of the AASPA program for 6 years before beginning his own program in 2013, the foundation being the core teachings of the Suzuki Method. Tony Winston has been a professional jazz pianist and singer since his late teens.

Since moving to Atlanta, Mr. Winston has been a major presence in the Atlanta jazz scene. As a soloist, and with his trio and big band, he has been heard in most all of the jazz venues throughout the city. As a well-respected vocalist, he has performed with numerous ensembles and jazz performers throughout the south. Winston's "Mondo Swing Orchestra" has perfomed for corporate functions, weddings and private events since 1999.

Cathy Gittelson has been a private piano instructor for over 25 years. She earned her Bachelors Degree in Music Education from Boston's Berklee College of Music and a Masters Degree in Performing Arts Administration from New York University.Ms. Gittelson has taught at various music studios throughout Atlanta, and taught K-5 music classes at the Epstein School of Atlanta. Before moving to Atlanta, she was the Publicity Director at one of the 5 top classical music managements in New York City.

Currently she maintains a piano studio with Tony Winston which has a roster of over 50 students. In addition, she continues her work as a freelance publicist for classical musicians. Recently, Ms. Gittelson began the Music Education at Your Door program, which provides in-home lessons to students in the East Cobb-Roswell-Dunwoody area.